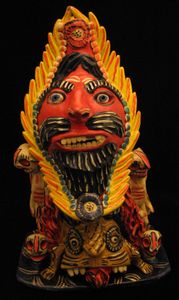 [sold] Large, unusual, and somewhat older work of ceramic clay from Ocumichu, Mexico. We do not know the exact age of this piece, but suspect it may be from the late 1970s or early 80s. The coloration is obviously not of recent vintage. And the figure itself, a large flaming diablo with demons and skeletons at his side, is rather unlike the mischevious devils typical of more recent Ocumichu.

18" tall, 11" wide, 7.5" deep.

There are three minor flaws, all plainly visible in the images here. The diablo is missing a pair of teeth, and there is a chipped flame at the very top of the piece. There is also a crack in the base which was repaired with clay, perhaps in the workshop where it was produced. Otherwise it's in remarkably good shape. There is no signature, only an 'Hecho en Mexico' stamp.275

Detail views below.



detail



detail



detail



detail



detail



detail



detail



detail



detail



detail



detail, base